Android TV Box, Kodi Boxes, Best VPN DD-WRT Routers & VPN Services
What is an Android TV box?
In this Era of Smart Technology you may ask what's an Android TV Box, Smart TV Box, Internet TV Box, Kodi TV Box, Multimedia Streaming Device? They're all different names for an Android TV Box.
An Android TV Box is essentially a user friendly small set-top box that runs Google's Android Operating System and attaches to your TV with a HDMI cable, instantly transforming your TV into a very Smart TV.
This means the Android TV Box is an incredibly flexible device that you can very easily personalise to your own requirements by installing your desired applications on to.
You can install many app's and games from Google's Play Store free and paid, there are literally thousands to choose from, you can surf the web from your sofa, browse and watch YouTube, watch your favourite shows on Netflix, Amazon Prime Video, BBC iPlayer, ITV Hub, BT Sports, listen to your favourite Music, check your local weather or tune in to your local radio station via TuneIn Radio the possibilities are endless.
One of the most popular app's right now to add to your Android TV Box is a streaming app called Kodi. Kodi is a legal award winning Multimedia app that will run on an Android Smart TV Box making it an ideal choice for your streaming requirements.
Kodi will allow you to stream content Like Movies, TV Shows, Music, Sports, Photos from your local storage devices like a NAS (Network Attached Storage) PC, Server, USB flash drive, USB hard drive, SD card, or via the Internet with up to 4K resolution including 3D making it a complete Multimedia centre ideal for your home. Please Note our boxes are sold without any 3rd Party Kodi wizards, Builds or Add-ons installed and are 100% UK Legal!
You will require a reasonable Internet speed, ideally a download speed of 10 Mbps or faster, 5 Mbps will work but you may experience freezing/buffering with higher quality Internet streams.
Picking an Android TV Box can be extremely tough, because there's so many to choose from and it seems like everyone is there to tell you that theirs is the best TV box.
All Android Smart TV Boxes we supply come with a full 1 year warranty! Our boxes are 100% UK  legal so we will be around to honour the warranty!
We have an in depth Android TV Box buyers guide HERE  
We've put together a selection of top picks that we believe to be the best Android Smart TV streaming boxes available in the market place today. With different price ranges to suit everyone's needs, all our Android Smart TV boxes are capable of outputting at 4K resolution.
Below is our best selling Android Smart TV Box from our range. The full range can be found in our online shop.
---
Our Best Selling Android Smart TV Box 2019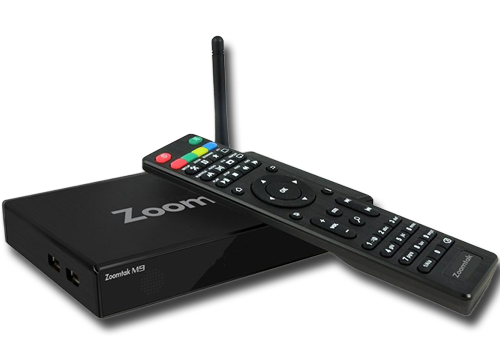 ZOOMTAK M9

Android TV Box Idea for Streaming Apps
Amlogic S905 Quad-Core(4) Cortex™ A53 CPU up to 2GHz
Mali™- Penta-core 450MP GPU @750MHz, FLASH - 8GB eMMC, RAM - 1GB DDR3
Android 5.1.1 Lollipop Operating System
HDMI 2.0 - 4K 
Bluetooth 4.0
Fast connectivity with Gigabit Ethernet LAN & Dual Band b/g/n/AC Wi-Fi
12 months Warranty
Now on Sale £55.99
Full Specification can be found HERE
---

---

---
---
Access to official add-ons like
In addition to KODI, there are thousands of official App you can download from the Google App Store such as Netflix, HBO-GO and many many more.

---

---