VPN's
What is a VPN?
VPN stands for Virtual Private Network. It's a way of connecting your devices to the internet through your normal data or broadband connection, while adding an extra layer of security & privacy to everything you do online.
Why Streamers Need a VPN
Do you use Kodi or similar media players for streaming? If the answer is yes it's very important you considder a VPN service now if you live in the UK.

Some Basics First
Once you connect to a VPN, your true IP address, network location and other session details reflect those of the VPN server, rather than of the home, office, or public Wi-Fi connection you're using.
Given the relative ease of 'man-in-the-middle' attacks that can capture all the data sent from your computer when on a public network, a VPN is a must have when using a public hotspots like Pubs, Cafes, McDonalds, Airports etc.
Once encrypted by a VPN, even if captured, that data is unreadable to any attacker or packet sniffer (e.g. your ISP).
Kodi is about the most popular Streaming app right now but by itself it's pretty basic, however, a whole world of unlimited video streaming opens up to you when you start looking at unofficial 3rd party add-ons. The decision to install those add-ons and what you do with those add-ons is up to you (legally speaking).
Using a VPN service will ensure that your privacy and security is maintained online for very little cost, privacy and security is always a good thing regardless of what you're doing!
Setup is easy, whether you're using a computer, tablet, smartphone or tv box. User-friendly apps let you secure your connection and access any website in one click. Just sign up from a link below, install, and connect.

1 – Keep Your Internet Service Provider ( ISP's ) Eyes Off of Your Traffic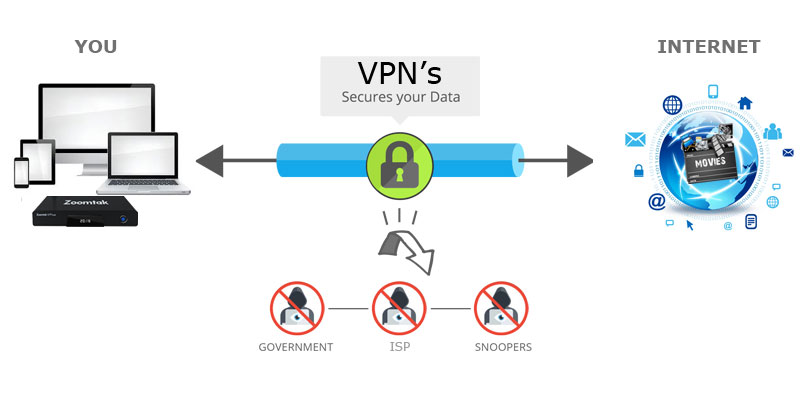 Tvboxcompany recommends 2 VPN providers: -
A VPN makes your ISP's 'peering eyes' blind to the contents and source of your Internet traffic. Very Important now with Internet service providers sending letters to people who are streaming (with a 3 warning letter system) for this reason alone a VPN has simply become a must have for streamers. Keep your surfing and streaming private and secure with use of a VPN !
2 – Stream From Servers Anonymously
On the other side of the coin, being able to browse, download, and stream anonymously, not only is your ISP blind to your traffic, but the server you download / stream from is blind to who you are and where you're from.
Your true IP address can't be tracked by the servers you're downloading / streaming from, since the servers just sees the VPN server IP address and location that the traffic is routing through. The 2 VPN compaines we recommend DO NOT keep logs!!

3 – Access Geo-Blocked Content or Internet Censorship
Some streaming servers and indeed certain Web Sites on the World Wide Web may be geo-blocking you, meaning they are only going to serve to users in a certain set of countries. With a VPN, you can choose a server in the country of your choice, and then those servers will think you are from that country, they will then serve the content accordingly.
4 – Early Access to New Releases
Another popular use for VPNs is getting access to new releases before everyone else.
For instance, if there's a new video game coming out and it's releasing at midnight on a certain day, if you're in the USA, you can set your VPN to connect to somewhere in Asia to get access to download and play the game almost a day earlier than the rest of your friends.
Finding the Right VPN Provider
There are a lot of VPN providers out there. Where do you even start to pick the best one?
TVBC recommend 2 VPN reputable providers that will not break the bank, are very secure (military grade encryption) with good speeds and NO logging of your Internert activity:-

1. IPVanish
or
2. Private Internet Access (PIA for short)

Both VPN providers allow 5 x simultaneous connections included in the subscription, meaning you can connect and secure multiple devices (up to and including 5) to there service at any one time, e.g. Smart TV Box, Mobile Phone, Computers, Tablets etc, they support about all platforms Android, iOS, Windows, Mac, Linux etc there service is not just for streaming but will securely encrypt all you activity on the internet. It's also possible to enter your VPN settings into your router (If your routers firmware supports this) making evey device connected to the Internet behind the router encrypted and protected, this method would only count as 1 out of the 5 simultaneous connections allowed. Please see our Routers with DD-WRT or Tomato Firmware HERE.
Private Internet Access (PIA) & IPVanish are two of the best VPN providers available to consumers. They are top ranked in security, anonymity, privacy, reliability, and speed & neither company keeps logs!
Both are headquartered in the United States, meaning your data is in the hands of a reputable company and not some shadowy VPN provider without so much as a mailing address.
PIA was a pioneer in anonymity and has kept no logs since their inception, and IPVanish joined the ranks of top tier Non-logging VPN providers in early 2014.
Anonymity, security & Speed (in our opinion) should be the top priorities when choosing a VPN provider..
Private Internet Access and IPVanish are two of our favorites, so who wins?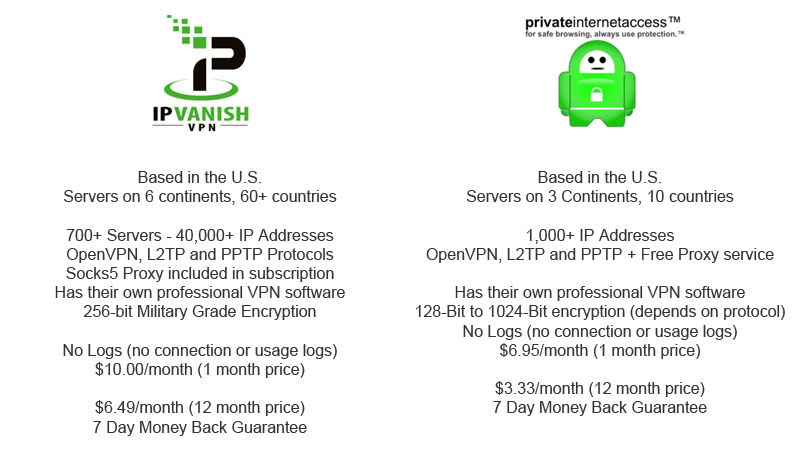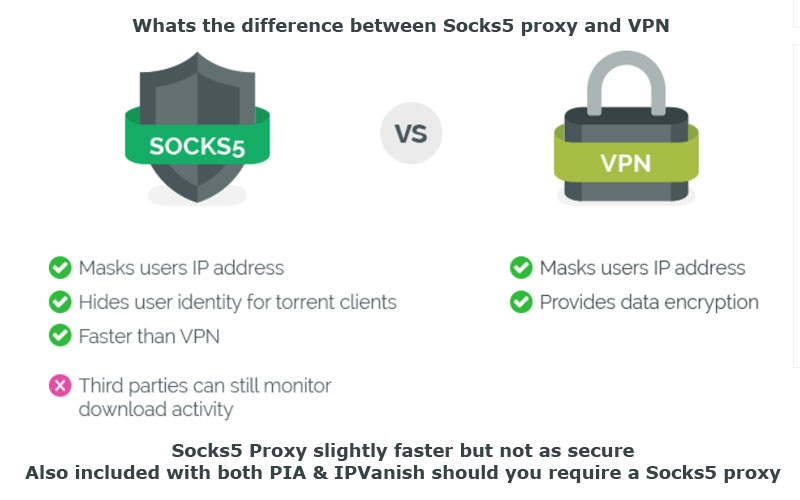 IPVanish's software is mostly function instead of frills. They pride themselves on their top tier speed on their Tier-1 VPN network, and their impressive list of servers in over 60+ countries on every continent except Antarctica. You get OpenVPN, L2TP and PPTP connectivity, 1-click connection, and the ability to sort servers by country or ping time, but not much else.
Private Internet access takes a slightly different approach. Instead of trying to compete with server variety, they offer servers in 10 countries (most of the ones you'd want including USA, Netherlands, and UK).
There are a lot of factors than can affect VPN download speeds, Server load and Bandwidth local traffic etc, our tests were done on a 80/20 Connection, normal download speeds are around 73Mbps to London without a connected VPN, below figures are a guide and are the results from our own testing.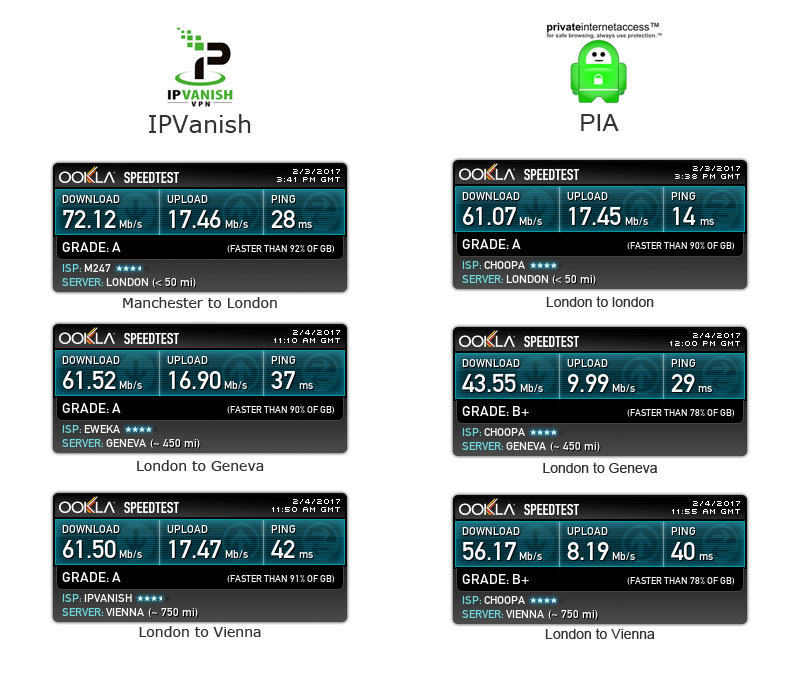 Speed Test Analysis:
Private Internet Access performed quite admirably, considering they are one of the most affordable VPN providers in the world. That being said, IPVanish beat them in all our speed tests. Either VPN provider should be more than fast enough for HD video streaming between continents or downloading torrents (provided your own internet connection is fast enough) but if having the fastest speed possible is important to you, we would recommend IPVanish.
Winner: IPVanish
Also, keep in mind that both IPVanish & PIA come with a 7-day money-back guarantee. So, try it out and make sure it works well for you. If it doesn't do what you want, you have a full week to decide and cancel to get your money back.
How to Know if the VPN is Working
Before connecting to your VPN, go to https://myiplocation.org and see what IP and location it says. This is how the Internet sees you without a VPN. The location is usually approximate to somewhere in your area or could be miles away, this is ISP dependent.
Now, connect to your VPN and then refresh that same website in your browser. You should see the IP address and location change to match the server that you have selected in the VPN app. This is how the Internet sees you when you're connected to your VPN.
---
IPVanish App comes pre-installed in to our Smart TV Boxes now, but if it's not installed you can click on one of the link's below, then simply add your user name and password for very fast & easy setup, Simply select a Country click connect then exit IPVanish App open Kodi.

Direct Download the IPVanish App HERE or Download it from the Play Store HERE

---
PIA App comes pre-installed in to our Smart TV Boxes now, but if it's not installed you can click on one of the link's below, then simply add your user name and password for very fast & easy setup, Simply select a Country click connect then exit PIA App open Kodi.

Direct Download the PIA App HERE or Download PIA from the Play Store HERE
---
We hope this has helped you.
TV Box Company Team.
Loading