VPN's
What is a VPN?
VPN stands for Virtual Private Network. It's a way of connecting your devices to the internet through your normal data or broadband connection, while adding an extra layer of security & privacy to everything you do online.
Why You Need a VPN 
Do you use Kodi or similar media players for streaming? Do you want internet security? If the answer is yes it's very important you consider a VPN service now. You really should be using a VPN, and even if you don't think so now, at some point in the future you may consider a VPN as important as your internet connection. The most important thing you need to know about a VPN: It secures your computer's internet connection to guarantee that all of the data you're sending and receiving is encrypted and secured from prying eyes. 

Some Basics First
Once you connect to a VPN, your true IP address, network location and other session details reflect those of the VPN server, rather than of the home, office, or public Wi-Fi connection you're using.
Once encrypted by a VPN, even if captured, that data is unreadable to any attacker or packet sniffer (e.g. your Internet Service Provider which we will refer to as your ISP from now on).
Kodi is about the most popular Streaming app right now but by itself it's pretty basic, however, a whole world of unlimited video streaming opens up to you when you start looking at unofficial 3rd party add-ons. (The decision to install those add-ons and what you do with those add-ons is up to you legally speaking).
Since the Law change in April 2017 in the United Kingdom a VPN is really a must have if you use these kind of add-ons or streaming services. 
Using a VPN service will ensure that your privacy and security is maintained online for very little cost, privacy and security is always a good thing regardless of what you're doing!
Setup is easy for most devices, (Linux, Windows, OSX, iOS & Android), whether you're using a PC, Mac, Tablet, Smartphone or an Android Smart TV Box there is normally a very user-friendly App supplied by the VPN Provider or the App stores that lets you secure your connection and access any website in one click or 2 clicks. We have YouTube videos demonstrating the complete procedure on an Android Smart TV box below.
You can even run a VPN on your router if your router supports this, (most free routers supplied by your ISP will not support this function unfortunately) everything connecting via Ethernet or Wi-Fi to a router running a VPN is always protected behind the encrypted VPN connection, only using 1 of your allocated allowed connections leaving you spare VPN connections to be used on Mobiles etc. while outside your home or office. Running a VPN on your router has many advantages, one of which is more devices can be connected at any one time, but we are not going into all the pros in detail now.
Some devices are not supported with an App,devices such as some Smart TV's, Xboxes, Chromecast, Firestick, Magboxes etc. in this case we would advise looking at a good quality fast router that can support VPN connections, everything behind a VPN router is protected whether it supports a VPN App or not because its behind the router that already has a VPN connection running. Routers to run VPN on can be found HERE.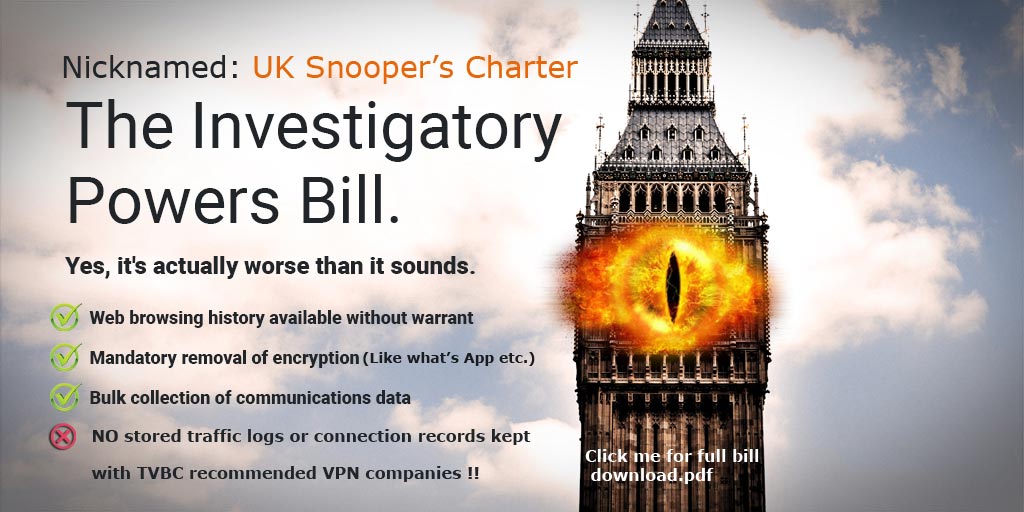 The majority of people in the UK are unaware of just how closely the government can monitor their online activities, a new report claims. 76 per cent of Brits are "completely unaware" of the highly controversial Investigatory Powers Act – also known as the Snooper's Charter – which allows the government to see everything we do online. 23 per cent were unable to name any of the 48 government bodies that have access to their full browsing history. These include the police and the secret service, as well as the Department of Health, HM Revenue & Customs, the Department for Work and Pensions and even the Food Standards Agency. 33 per cent of respondents thought the government had no power to monitor online activities, and 59 per cent said they wouldn't consent to the government or third parties viewing and monitoring their digital activities. However, 63 per cent of the 2,000 adults involved the the study, which was conducted in April, said they would only agree to being monitored in order to prevent criminal activity or a potential terrorist threat. "The public and parliamentary debate about the Investigatory Powers Act was overshadowed by Brexit so it is perhaps unsurprising that many people are not aware of the Government's extreme surveillance powers," Jim Killock, the executive director of Open Rights Group, told The Independent.
1 – Keep Your ( ISP's ) Eyes Off of Your Traffic !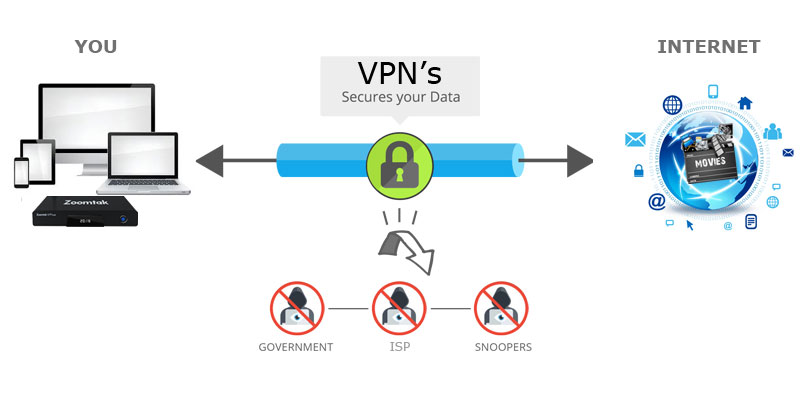 A VPN makes your ISP 'peering eyes' blind to the contents and source of your Internet traffic. Very Important now with Internet service providers sending letters to people who are streaming (with a 3 warning letter system) for this reason alone a VPN has simply become a must have for streamers. Keep your surfing and streaming private and secure with use of a VPN !
2 – Stream From Servers Anonymously
On the other side of the coin, being able to browse, download, and stream anonymously, not only is your ISP blind to your traffic, but the server you download / stream from is blind to who you are and where you're from.
Your true IP address can't be tracked by the servers you're downloading / streaming from, since the servers just sees the VPN server IP address and location that the traffic is routing through. The VPN companies we recommend DO NOT keep logs of your activity!!

3 – Access Geo-Blocked Content or Internet Censorship
Some streaming servers and indeed certain Web Sites on the World Wide Web may be geo-blocking you, meaning they are only going to serve to users in a certain set of countries.  With a VPN, you can choose a server in the country of your choice, and then those servers will think you are from that country, they will then serve the content accordingly with a simple click of a button within your VPN program/app.  
4 – Early Access to New Releases
Another popular use for VPNs is getting access to new releases before everyone else.
For instance, if there's a new video game coming out and it's releasing at midnight on a certain day, if you're in the USA, you can set your VPN to connect to somewhere in Asia to get access to download and play the game almost a day earlier than the rest of your friends.
5 - Finding the Right VPN Provider
The best VPNs offer a solid balance of features, server location, connectivity protocols, and price. Some are great for occasional use, others are geared towards getting around the location restrictions companies put on their apps and services, and others are targeted at people who do heavy downloading and want a little privacy while they do it. There are some many VPN providers out there you may ask where do you even start to pick the best one?
TV Box Company have narrowed the large selection of VPN Providers down to just a few for your consideration, we believe these few VPN providers are the Very best available to you, all of the VPN providers we recommend don't cost the earth and will not break the bank, we've tested a lot of VPN's from a lot of Providers. We narrowed them down based on security, privacy, speed, cost and ease-of-use. The VPN Providers were recommend are for the specific needs of British internet users in mind. Check out the list below for the best VPN Provider for your own requirements with the best VPN deals, start browsing with freedom and security today. All VPN Providers can be added to our DD-WRT Routers. The list below is in no particular order the choice is yours!
---
Download
PIA
Android App
Download
NordVPN
Android App
Download
IVACY VPN
Android App
Download
IPVanish
Android App
Download
PureVPN
Android App
Download
ExpressVPN
Android App
Download
SmartDNS VPN
Android App
Download
SaferVPN
Android App
Download
ZenMate
Android App
Download
Buffered
Android App
Download
VPN Unlimited
Android App
Download
VyprVPN
Android App
Download
HMA VPN
Android App
---
How to Know if the VPN is Working
Before connecting to your VPN, go to myiplocation.org  or whatsmyip.org and see what IP and location it says. This is how the Internet sees you without a VPN. The location is usually approximate to somewhere in your area or could be miles away, this is ISP dependent.
Now, connect to your VPN and then refresh that same website in your browser. You should see the IP address and location change to match the server that you have selected in the VPN app. This is how the Internet sees you when you're connected to your VPN.
---
---
We hope this has helped you.
TV Box Company Team.